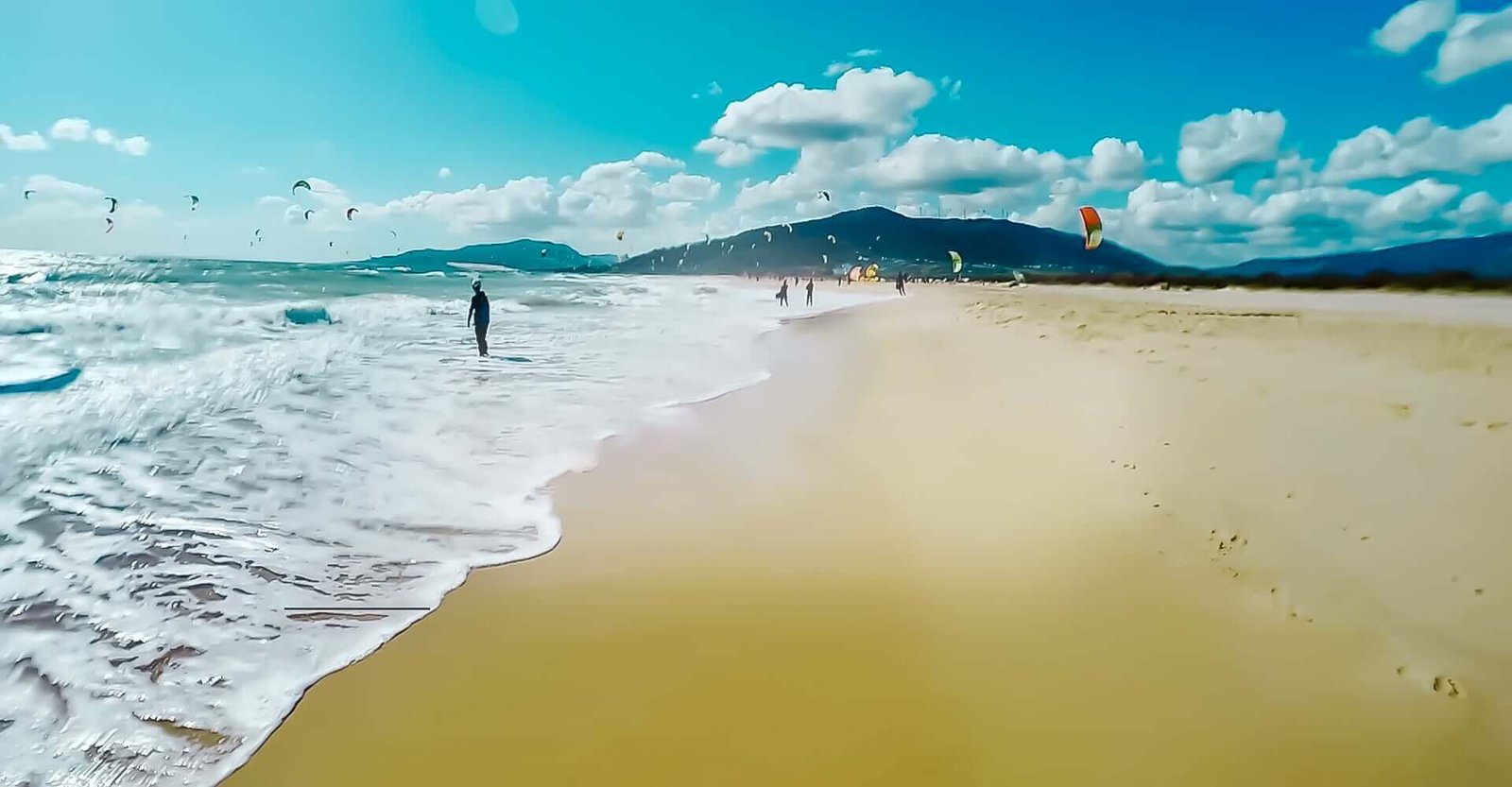 TIME TO RECONNECT
The most innovative school in Tarifa
All our instructors are officially certified and have one goal in mind – YOUR GOAL!
OUR COMMITMENT
Kitesurfing is not just a sport, it's a way of life, and
Tarifa
is one of the best places in the world to start this great journey.
OUR PROMISE
Current lifestyle makes us forget about the most important things in our life - "The Elements". We will help you to connect with them in the coolest and most beautiful way - KITESURFING!
CHOOSE YOUR KITESURFING COURSE
Choose the Kite Course that suits you and let's have some fun!
GROUP
3 - 4People
---
4h
100 EUR
8h
190 EUR
12h
270 EUR

ALL YOU CAN RIDE
Every additional hour
after 22h - 22 EUR
*price p/p, 3ppl +€15/h
SEMI PRIVATE
2People /1 KITE
---
3h105 EUR
6h195 EUR
9h280 EUR

ALL YOU CAN RIDE
Every additional hour
after 9h - 31 EUR

*price per person
SEMI PRIVATE SPEED
2People /2 KITES
---
3h135 EUR
6h255 EUR
9h360 EUR

ALL YOU CAN RIDE
Every additional hour
after 9h - 40 EUR
*price per person
PRIVATE
1Person
---
2h130 EUR
4h250 EUR
6h360 EUR

ALL YOU CAN RIDE
Every additional hour
after 6h - 60 EUR


La mejor experiencia en un curso deportivo. Pepe es un profesor increíble, muy motivado y con mucha paciencia :-) Marta es una organizadora maravillosa. Los dos consiguen que tu experiencia sea increíble.

Dajemy 5 gwiazdek za 100% pasji, poświęcenia, cierpliwości, motywacji i zabawy! To właśnie sprawia, że Pepe jest super nauczycielem - daj się zarazić pasją i zainspirować - a na koniec podróży będziesz stał na desce i kontrolował kite - a nie kite ciebie  Co do warunków wietrznych w Tarifie - 7 dni nieustającego wiatru mówi samo za siebie! Opuszczamy Taryfę i trzech przyjaciół (o tak, Pepe, Martę i oczywiście Pompitę!) No i teraz, gdy jesteśmy zarażeni wirusem kitesurfingu, tylko czekamy na następną sesję.  (more…)

Super szkoła w Tarifie! Moim instruktorem był Przemek, który sprawiał wrażenie bardzo doświadczonego instruktora. Zawsze dawał dokładne wskazówki i zauważał niedociągnięcia w postawie co zdecydowanie wpływało na prędkość mojego postępu. Naprawdę szkoła godna polecenia :D

I met Pepe in a limited time during my vacation. I decided to try kite surfing and l ended up with the coolest kite surf instructor by chance :) He's tough with no pitty sometimes, but all for the goodness of the rookies like me :) He gives you the right technics and tips from A to Z, expects you to apply them every time with patience. Also, Tarifa is a great spot for kite surf with a strong wind. l'm looking forward to meet him again in the wind of Tarifa. Strongly recommend for profs and newbies ✌

I was there for a few days with a friend to really learn how to kitesurf. I had taken a day of kitesurfing lessons before but after I started my course with Pepe I realized how much difference good teaching makes. He followed his own teaching style and quickly managed to make us feel confident manoeuvering the kite. By the time he put us on the board I saw that other students were struggling much more with the Tarifa conditions (pretty big surf). I can definitely recommend it. Looking forward to being back in September. Saludos, Alex

I had lessons in Tarifa for one week and was really happy with my progress. I had a great time there, the guys got not tired to tell me the same thing till I really got it and did the first water starts. Learning with lost elementos is really fun! You learn the technic you need with fun at the exercise and sometimes you even get support of Pompa :) Loved it! Next trip to Tarifa with taking lessons from lost elementos is already planned :) Looking forward to seeing you again!

I spent three enjoyable days learning how to kite with Pepe and Marta from Lost Elementos and instructor Vincent. They are a really fun group of people to be around and great instructors who will give you all the technical tips you need to get up and riding. All of their equipment is brand new, unlike most of the other schools, and they also have the unique addition to the team of Pompa the puppy! Marta and Pepe even gave me a lift back to town after the sessions were finished. When I come back to Tarifa I'll be learning with these guys again!
LEARN IN THE BEST KITESURFING SCHOOL IN TARIFA
The very latest equipment
All our kitesurfing equipment is brand new and the very latest model to ensure high performance while teaching
KITESURFING
ACCOMODATION
FROM15€
---
KITESURFING SPORTS MASSAGE
Kitesurfing is a highly physical sport, most of the power generated by the kite is controlled through the waist/seat harness, making the sport accessible to virtually anyone with an average fitness level. However, kitesurfing is a sport that demands a lot on different parts of the body.

Regular maintenance sports massages and stretching will help keep soft tissues in optimum health and together they will reduce the chance of injury and allow you to get the best performance from your body when Kitesurfing..